21 Feb

Are We Known as a Praying Church?

What are we at Garden Heights Baptist Church known for? For what do we wish to be known? Many ideas came up as the media team met with a website designer for our recent logo and website redesign.

As content unfolded, though, some strengths and weaknesses revealed themselves. Many churches, as we are well aware, are known for their impressive size and coordinating plethora of programs. Ours, however, is on the small side (we average around 100, give or take) and have a pretty simple schedule, most months.

Some Erie-area churches have state-of-the-art facilities, while our building is fairly nondescript. But if you come to a Sunday morning Worship service or take a look at our weekly schedule, one thing that may strike you as different from many churches, is our emphasis on prayer. And if we're known as a praying church, that's not a bad thing, at all.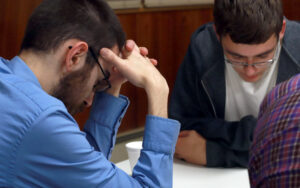 What is prayer, and why do we find it so significant? In prayer, we get the ear of God Himself, the Creator of Heaven and Earth. We call to God the Father, with the help of His Holy Spirit. Because of Jesus Christ, our Great High Priest, we can go directly to the throne of God! And so we pray in Jesus' name.
As men lead in public prayer throughout our weekly Worship Service, hopefully all of us are praying together, in our hearts, as well. While we don't repeat memorized prayers in each service, we do follow the basic categories of prayer that Christ suggested in His model prayer (often referred to as the Lord's Prayer): Adoration, Confession, Thanksgiving, and Supplication.
But our devotion to prayer extends beyond our Worship service. On Wednesday evenings, teens and adults have the opportunity to pray together in small groups, following a topical Bible study, usually led by one of our elders. In a recent series led by Pastor Jonathan, we examined prayer in the Early Church, as described throughout the book of Acts.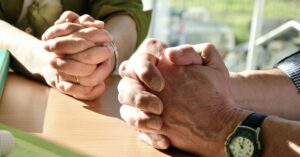 During that study, we noticed how rare it was for those early Christians to ask for physical help or provision; instead, they focused on spiritual needs, needs such as boldness to share their faith, perseverance, increased obedience to their Lord. And by grace, we as a church family are growing toward following their example.
The Early Church didn't meet in a "church building" or have elaborate programs. But they were pretty big on prayer.
If we at Garden Heights Baptist Church are known throughout Erie, Pennsylvania, as a praying church, that wouldn't be a bad thing, at all.
---
About the Author: Tammy Wagner has been a member of GHBC since 2018. Her primary ministry is to her husband, Pastor Jonathan Wagner, and their four children. Her favorite additional ministry is hospitality, and she's almost always up for a book discussion or a coffee date! She also works from home part-time, as a freelance writer.